Car Accident Injury Law Firm in Seattle
A car accident can happen at any time, and can have disastrous consequences for the victims. A person can be following the rules of the road and driving safely, and someone else's reckless or negligent actions can cause them to be injured, or even cost them their life. You never think that it could happen to someone you love until it does. When the unthinkable happens, it can be difficult to know what you should do. Families of people killed or injured in a car accident have to deal with grief, loss of income, and much more. Tragedy can happen to anybody, even people with their whole lives ahead of them. 
Early in the morning of Wednesday, March 22nd, 2023, there was a horrific accident that claimed the lives of two 18-year-olds. The two teenagers, Khalea Thoeuk and Riley Danard, were inseparable. They went to Alki Beach in West Seattle so that they could have a fun time and celebrate Riley's birthday. They had no way of knowing what would happen. 
When the two were driving on the West Seattle Bridge, a drunk driver going the wrong way crashed into them, according to the Seattle Police Department. Multiple people called 911 to alert the police that a white pickup truck was driving the wrong direction, as far away as Roxbury. He was in the bridge's westbound lane. Witnesses saw the truck collide with the sedan that the two teens were in. Officers that arrived at the scene found both the pickup truck and the white sedan extensively damaged. Seattle firefighters on the scene pronounced both Riley and Khalea deceased.
According to Seattle police, the at-fault driver was under investigation for vehicular homicide. When the accident occurred, he showed signs of being impaired. He was transported to a nearby hospital so that his serious injuries could be treated. He is expected to recover within a few weeks and be released from the hospital, the King County Prosecuting Attorney's Office stated. On the afternoon of the 22nd, authorities still did not know his name. They do now; however, they do not release a suspect's name to the public until they are booked into jail. Because of the suspect's physical condition, this has not happened yet. 
If and when authorities file charges against him, investigators will likely release more details about the case. Locals have mentioned that the entrances to the bridge could use better markings or signage so that people don't enter driving the wrong way, although it is unclear if that would have helped in this case. The seattle Department of Transportation has not made any statements relating to that concern. 
Khalea was a senior at Snohomish High School, while Riley attended there last year, the Snohomish School District reported. Khalea was an honors student. The principal of the school, Nate DuChesne, wrote a letter addressed to students of Snohomish High and their families. He said that this difficult time was a time for people to come together. He also said that everyone reacts differently when tragedy strikes, and it can be hard to understand why things like this happen. "One of the most important things we can do is to be supportive and encourage an open expression of feelings," Duchesne stressed. 
From March 23rd to 30th, a week-long ceremony was held at the Cambodian Buddhist Society in Mill Creek to honor Khalea Thoeuk. Temple staff also encouraged people to pray for Riley Danard. In a quiet prayer room in the building, a memorial for the two victims killed in the crash was set up. The room was lit with soft yellow light, and people placed an assortment of flowers and food offerings before a statue of Buddha. Cambodian Buddhists believe that the seven days after a person dies are an important period in which the soul should be helped to understand that they have passed on. 

According to Khalea and Riley's friends and family, the two of them were like family and cared deeply for each other. Riley had a deep love for other human beings. Khalea had an infectious laugh, and loved to read and bake. She would get in trouble as a child for staying up late to read. Her loved ones say that she was a kind, empathetic, thriving, and smart. She was the type of daughter that every parent wants to raise, and was a loving older sister to her younger siblings. 
Khalea and Riley are remembered as two individuals that lit up the lives of everyone that encountered them. Both of them had bright futures, and so much more that they could have given to the world if they hadn't been taken from it so soon. Riley and Khalea had a third-best friend that was always with them, Jamyn. He said that there is nobody else in the whole world like his two friends. 
Kelsey Brogan, Khalea's godmother, said that this tragedy did not need to happen, and should not have happened. This is true for all wrongful death accidents. They happen because another person or party was acting irresponsibly, such as driving under the influence. It's important that the loved ones of wrongful death accident victims get a hold of a personal injury attorney that can help them. Seattle Injury Law has a proven track record when it comes to winning car accident injury and wrongful death cases. It's very important that you fight for justice. 
Our car accident injury lawyers know that you are going through a difficult time, and that the prospect of filing a claim can seem insurmountable. Insurance companies know that you are unlikely to be able to win your case on your own, and so they will offer you very little compensation. Don't just accept what they offer you-speak to a professional. Seattle Injury Law's team will give you compassion and understanding as they take care of your claim for you. We will gather evidence and determine who is at-fault for the accident. Whether you were injured in a car accident in Seattle or you are looking for a wrongful death attorney, Seattle Injury Law will fight to get you justice.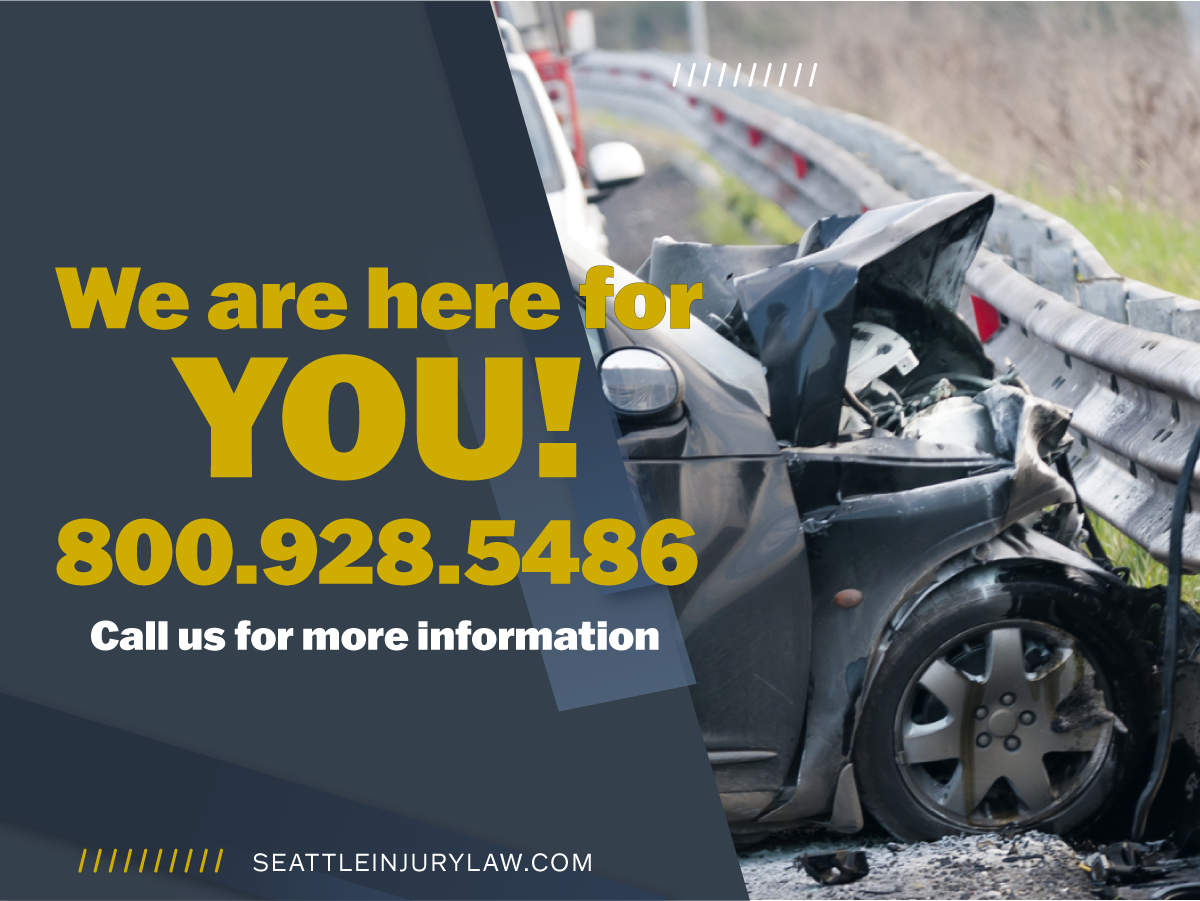 You don't pay if we don't win.
Offices open 24-7
Call Us to get fair and reasonable legal representation for your injury.