Injuries due to an accident with a semi truck are on the rise.
With more and more people buying things online, there have been more semi trucks on the road than ever before. Driving alongside them on the road every day, although unavoidable, can be dangerous. Semi trucks are cumbersome to maneuver, and are extremely big and heavy. This can lead to serious accidents occurring. Semi trucks may also be carrying cargo that's dangerous, such as being oversized, heavy, toxic, and/or flammable. This cargo is an additional factor that can contribute to causing injuries in accidents involving semi trucks. If you or a loved one received an injury because of another party due to a semi truck accident, then a semi truck injury attorney can help get you the compensation you need. 
Unfortunately, semi truck accidents are bound to happen. They are responsible for hauling a majority of the freight transported in America every year, and there are millions of semi trucks registered across the country. Because Washington is on the coast and has a lot of ports, there are especially a lot of semi trucks. In 2020, there were about 4,000 crashes in Washington that involved semi trucks. Many of these accidents resulted in minor injuries, severe injuries, and even death. 
Who gets hurt when you are involved in an accident with a semi-truck?
When it comes to semi truck collisions, the people least likely to be injured are the semi truck drivers themselves. They are less at risk because the truck itself provides some form of protection. Even if you take a defensive approach to driving, and you try to be safe, you might not be able to keep a semi truck accident from happening. No matter how good you're driving, another driver can mess things up and cause a life-threatening accident. 
What are some common causes for semi-truck crashes?
There are many different factors that can lead to a semi truck accident occurring, so let's go over some of the common causes. The biggest cause of semi truck accidents is error on the part of the truck driver. Truck drivers have a lot of responsibility placed upon their shoulders to take care of their cargo, as well as not put other drivers at risk. In fact, truck drivers themselves are 1000 percent more likely to be the cause of a semi truck accident than factors such as vehicle defects, weather, or road conditions. Oftentimes, truck drivers have to drive during long shifts, which can lead to auto accidents caused by sleep deprivation while driving. Other common accident factors include semi truck drivers getting distracted while driving, and even impaired driving from the truck driver being under the influence of drugs or alcohol. 
Aside from the truck drivers themselves, another common cause of semi truck accidents is a failure or defect in the equipment. Many accidents involving semi trucks are directly caused by defective, malfunctioning, or failing trucking equipment. Before a semi truck goes out on the road, they must be carefully inspected to verify that they are safe and fully operational. If a semi truck accident is caused because of a part that isn't working correctly, then it might actually be the part manufacturer that is at fault and not the driver. Depending on the circumstances, the manufacturer and the driver might both be at fault. 
There are many regulations that semi truck drivers are expected to follow. The intention of these rules is to maintain and improve safety on the roads. When people neglect to follow these rules, then severe accidents can happen. 
Are there other factors to these types of accidents?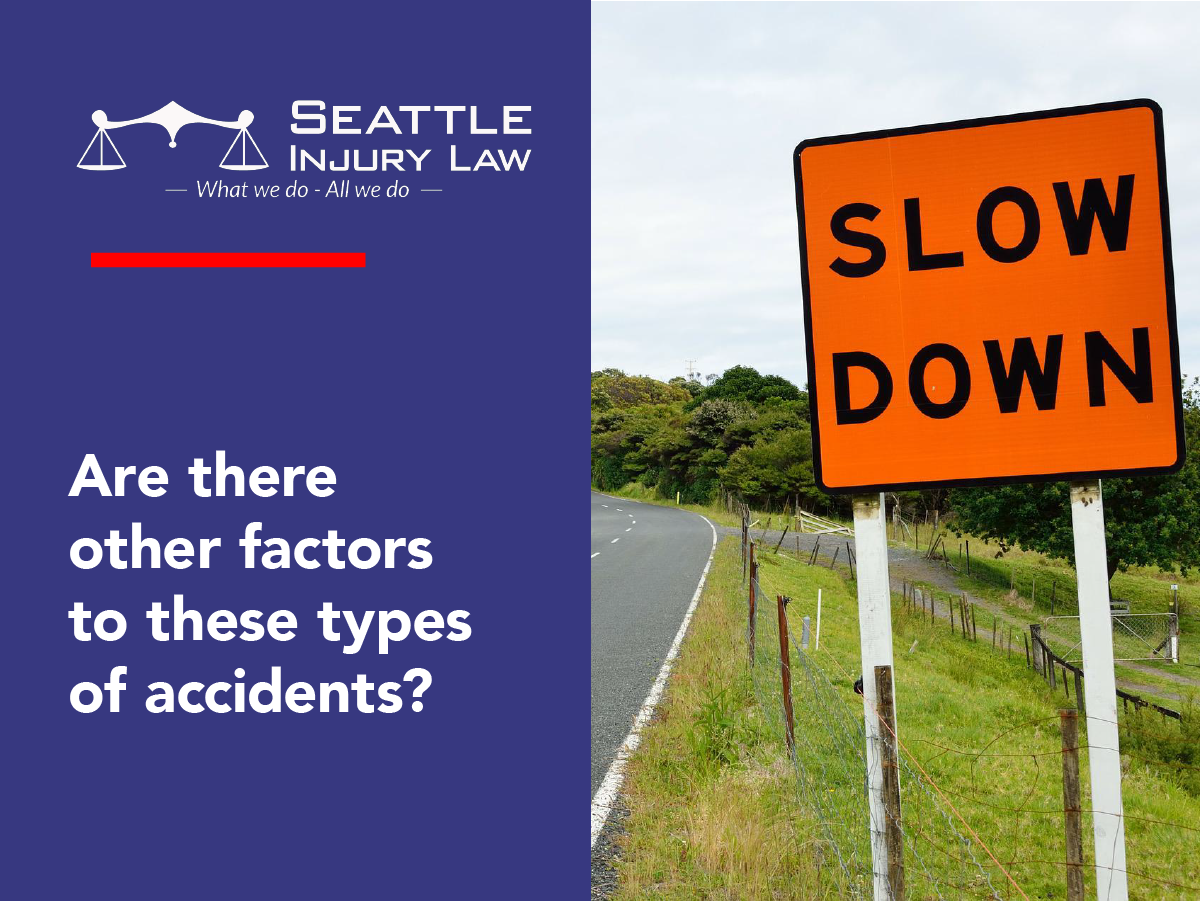 Sometimes it can be difficult to navigate roads. Severe weather, narrow lanes, and complicated road conditions are all common causes of semi truck accidents in Washington state. In some of those accidents, the fault falls upon the government for not up-keeping the road correctly. It is the responsibility of the government to keep roads in a safe condition for driving. 
When people load cargo onto semi trucks, they must do it meticulously and with great care. If cargo is loaded improperly, then it can cause cargo to fall out of the truck and onto the road, or can even lead to the semi truck tipping over. Problems with loading cargo can cause serious injuries and even death for people involved in semi truck accidents. Sometimes, semi truck accidents are caused by lack of maintenance, parts failure, and other trucking equipment issues. In these cases, the trucking company may be liable for the accident because they were negligent. 
What kind of injuries can happed because of a semi-truck crash?
The injuries incurred from semi truck accidents can be very serious, and even fatal. Some injuries that can occur in semi truck injuries include traumatic brain injuries (abbreviated as TBIs), spine injuries, burn injuries, concussions, bone fractures, internal bleeding and injuries, and even amputations. The injuries caused by semi trucks can be life-altering, and can cause loss of capacity to work, and even permanently disable people. 
Many people that have been victims of semi truck accidents worry about how they will be able to cover their bills. It is important to get the medical care that you need so that you can properly recover. You should reach out to an experienced car accident injury attorney who can help guide you through the process of getting justice and receiving compensation for what you have been through. Our team here at Seattle Injury Law are happy to answer any questions you may have, and we can tell you the worth of your case. 
How can I get help if I have been in an accident with a semi-truck?
Seattle Injury Law offers free case consultations, and we only get paid on a contingency-fee basis. We only get paid when your case is won, so you don't have to worry about paying for fees out-of-pocket. We have many years of experience in winning compensation for people that have been injured in accidents. If you or one of your loved ones is in need of a semi truck accident attorney in Seattle or its surrounding areas, then look no further than Seattle Injury Law. We are here to help you get back on your feet and live the best life possible. Reach out to us today to learn about how we can help gather evidence, build a strong case, and fight for justice.