Car accident news of a fatality on Ship Canal Bridge in Seattle, May 2022
A driver recently died in a car crash after being launched off of Ship Canal Bridge, according to prosecutors. The man was named Jordan Shelley, and he was only twenty-three years old when another driver allegedly smashed into his disabled car, sending him flying off of Ship Canal Bridge and plummeting into Lake Union. The Seattle man who allegedly was responsible for causing the crash that resulted in the death of one person has been charged with reckless driving and vehicular homicide. The suspect, Justin Yang Kuo, is twenty-two years old. The prosecutor's office of King County filed charges against him on the 26th of May. 
The fatal crash happened on Tuesday the 24th at around 4:30 in the morning. Jordan Shelley, who worked as an EMT, was on his way to work when he started experiencing car trouble. Shelley responsibly pulled his car over to the shoulder of the road on Interstate Five before calling his girlfriend and asking for her assistance. When Kuo allegedly crashed into Shelley's disabled vehicle, he was driving southbound on I-5. When the crash happened, Shelley was standing outside of his car. Police reports say that the impact launched Shelley over the guard railing, which sent him falling about 180 feet down into Lake Union. 
According to documents of probable cause, the account of what happened that Kuo gave to a Washington State Patrol trooper was that the car driving in front of him suddenly shifted to the left. He says that he looked down to adjust the settings of his radio, and then crashed into Shelley's car. A trooper noticed that Kuo seemed impaired, and Kuo later confessed to law enforcement that he had drunk three or four alcoholic lemonades before the crash occurred. Kuo got a breathalyzer test at the scene, and it indicated that his blood alcohol volume was above the legal limit, which is .08%. Before the crash, Kuo says that he was driving between 65 and 70 miles per hour. 
A dive team from the Seattle Police Department conducted a search for Shelley beneath the bridge, and found his body at a depth of around 25 to 30 feet underwater, police said. Based on the wounds found on the body, prosecutors believe that Shelley died in the crash, before falling off the bridge. Because of the crash, I-5 was shut down for over three hours on the morning of the accident. 
What can I do when a wrongful death happens in my family?
When a loved one is the victim of wrongful death, or you or a loved one has been a victim of a car accident injury, it is important that legal action is taken so that justice can be served. Insurance companies will do everything in their power to avoid paying out what you are truly legally entitled to. You should keep in mind that insurance companies do not care about what is morally right or about what is best for the victim. They are only looking to serve their own best interests and pay out as little as possible. Thankfully, our team at Seattle Injury Law is highly familiar with the sneaky tactics that insurance companies like to employ so that they don't have to properly compensate victims. It can be tempting to just take what the insurance company offers you initially, but it is crucial that you do not accept any checks from insurance companies until you have consulted with a personal injury attorney that knows what they're doing. If you accept a check, then you probably will not be able to pursue a case for more compensation later on down the road.
No matter how safe you are on the road, something could happen completely out of your control that could lead to injury. Many people that are facing a car accident injury or wrongful death because of a car accident are saddled with massive medical bills, lost wages, funeral expenses, and more. You should not let a negligent driver get away with the harm that they have caused. For expert legal assistance regarding personal injury claims and getting as much compensation as possible, reach out to our experts at Seattle Injury Law today. We will help you through the process so that nothing feels overwhelming. We are highly experienced, and know how difficult it can be to have to deal with personal injuries or a loved one's death while trying to fight for compensation. We want our clients to be able to find peace after what they have been through, and we take the time to understand the intricacies of each case so that we can fight for you as well as possible. When you entrust our personal injury attorneys with your legal needs, you can rest assured knowing that we will take care of everything.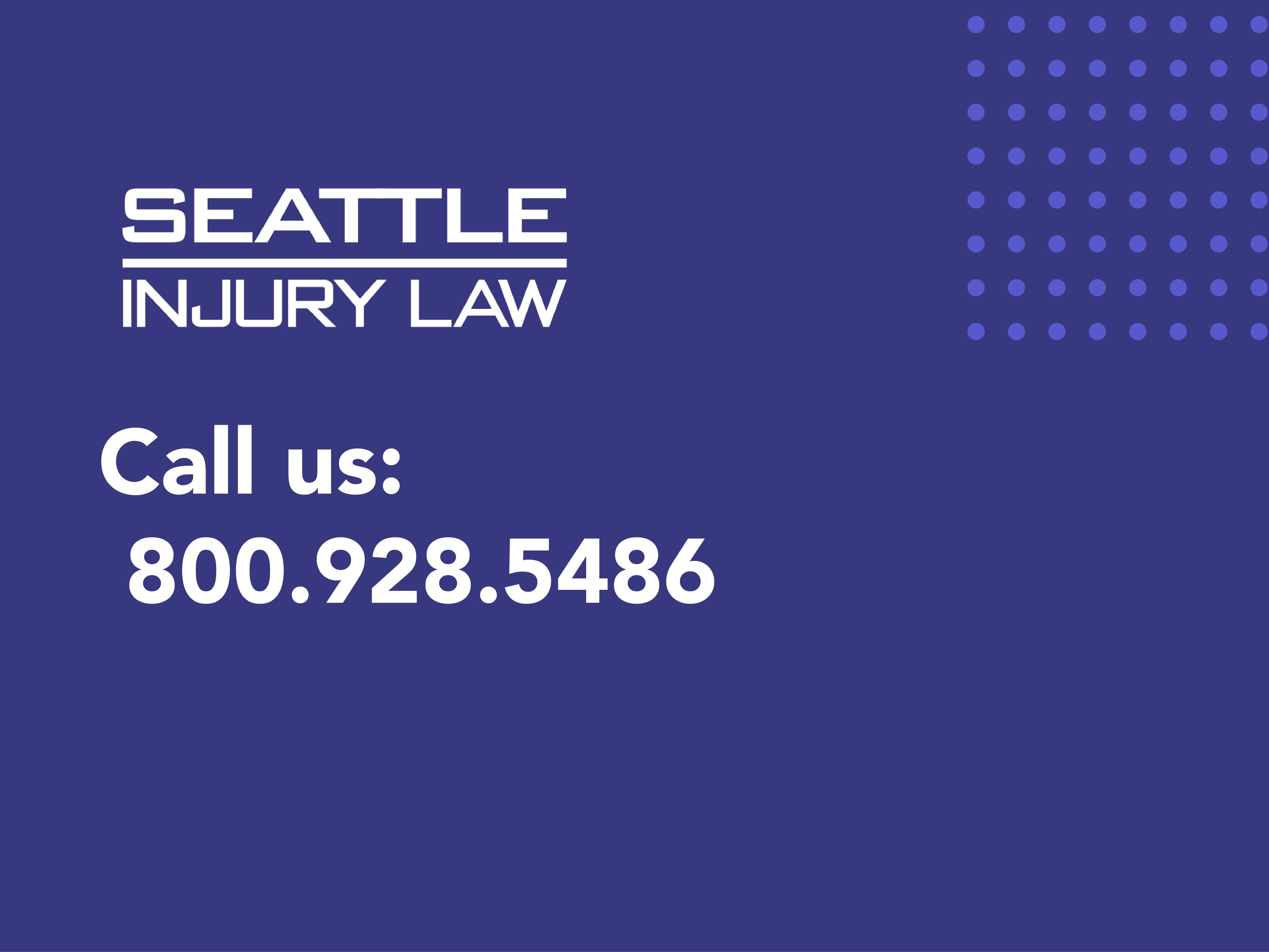 At Seattle Injury Law, we get paid when you do. This is called getting paid on a contingency-fee basis, and it ensures that you do not have to pay us out-of-pocket while you are already dealing with so much. You only have to pay us when we win your wrongful death or personal injury case for you. You should not have to struggle with expenses that you didn't plan for because another driver was not being responsible. Here at Seattle Injury Law, we have years of experience handling a wide variety of personal injury cases, such as motorcycle accident injury, pedestrian accident injury, truck accident injury, car accident injury, dog bite injury, slip-and-fall accidents, work injuries, and more. 
For all of your personal injury or wrongful death lawyer needs, Seattle Injury Law is the place to go. Our compassionate, professional personal injury attorneys know what needs to be done to successfully win compensation. Do not simply lie down and accept the wrongful death of a loved one, or a personal injury that has impacted your life. Our team at Seattle Injury Law will fight for justice, and fight for a better future for you and your family. Reach out to us today so that we can go over your case with you. 
You don't pay if we don't win.
Offices open 24-7
Call Us to get fair and reasonable legal representation for your injury.