Seattle Injury Law can take care of your Motorcycle Accident
A motorcycle police officer died in Bellevue after he was involved in a crash on the morning of Monday, November 21st. According to official reports, he was driving north on Bellevue Way when a white car struck him. They do not believe that either impairment or speed were factors behind the crash. The 34-year-old officer, Jordan Jackson, was severely injured in the accident, and taken to the hospital as soon as possible. Unfortunately, a few hours after the crash he perished from his injuries, despite the best efforts of medical personnel. According to the Washington State Patrol, Jackson was hit by a vehicle that was leaving a parking lot and going onto Bellevue Way Southeast.  
While they investigated the scene, fire crews and police officers closed down the road between Southeast 6th Street and Southeast Wolverine Way. 
On Monday evening, Jackson's fellow police officers gathered outside the Harborview Medical Center. There were dozens of officers there, hailing from many departments. They all communed to talk and pay respects to Officer Jordan Jackson, the Bellevue cop that died from the motorcycle accident that happened while he was on duty.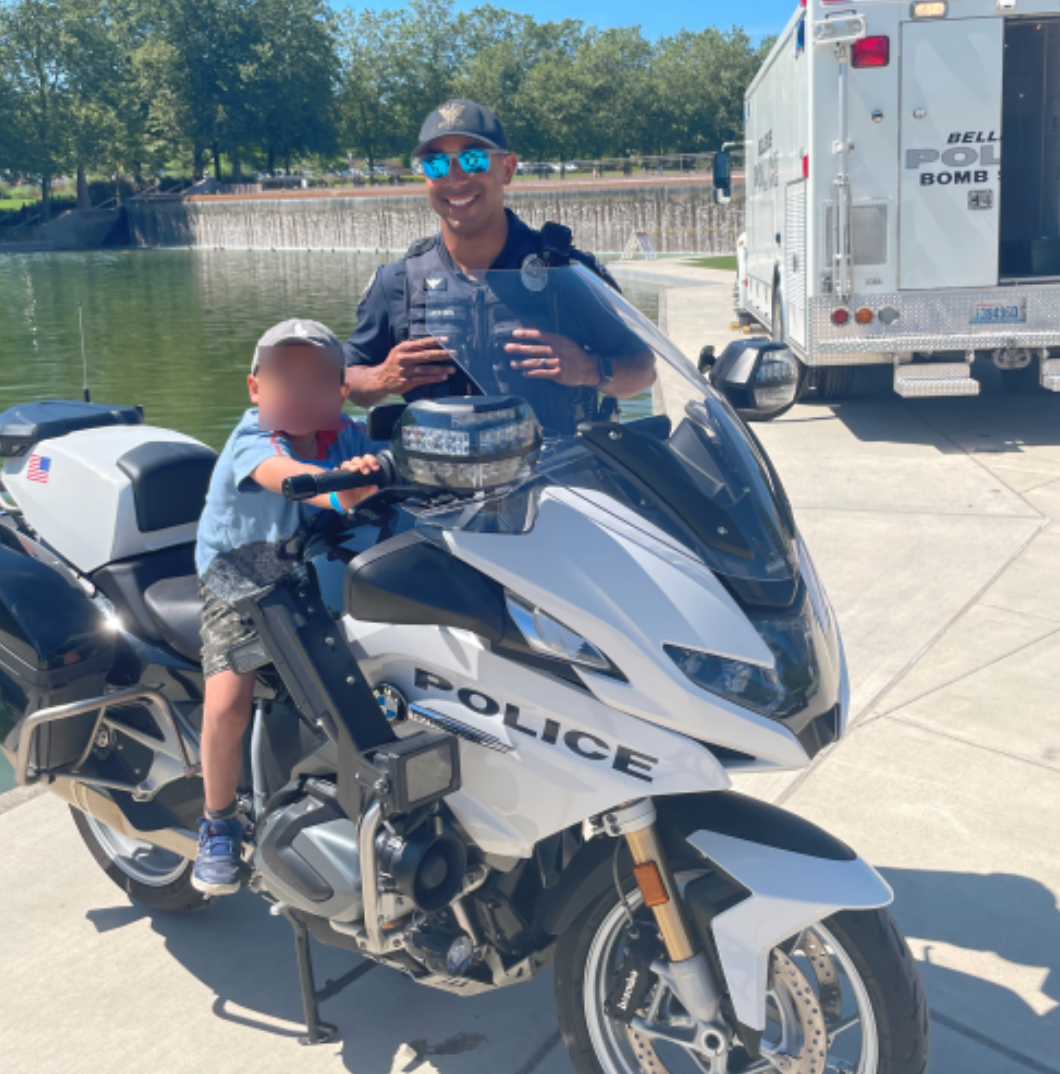 Jackson was born and raised in Washington, and grew up in the Spokane area. The high school that he went to was Issaquah High, and he attended Central Washington University for his college education. Officer Jackson was a valuable member of theBellevue Police Department, and widely liked. Officer Jordan Jackson was on the Bellevue Police Department force for half a decade. Recently, he was awarded employee of the quarter honors because of his service within the local community.He received this honor because of his consistently excellent, high quality community service and work. Jackson's supervisor praised him for his eagerness to shoulder extra responsibility and for his amazing leadership skills in the department.
Before working as a police officer at the Bellevue Police Department, Jackson worked as a team member on the King County Sheriff's Officer Search and Rescue Volunteer K-9 Unit. He also did work as an Emergency Medical Technician (EMT), and as a volunteer firefighter. In March of 2018, he joined the Bellevue Police Department. He transferred to the traffic unit two years later so that he could work as a motorcycle officer. 
FOX 13 News talked to Brad Estill, an officer who retired from the Bellevue Police agency around the time that Jackson joined the team. He worked with him for a while. As soon as he got the news that Jackson was the victim of a bad auto accident, he headed over to the hospital. He knew him, and when he retired Jackson took his old position in the motorcycle unit. Estill believes that Jackson may have even adopted his call sign after he left. At the time, Jackson was a fairly new officer compared to people that had been on the force for decades. 
Brad Estill emphasized that Jackson was very good at riding. He thinks that he was probably better at riding than Estill himself, despite being on the force for less time. Estill, like the other men and women in law enforcement that met at Harborview Medical Center, came to show his support. He wanted to show his support for other people on the force, but also for Jackson's wife and young children. Officer Jordan Jackson is remembered as a family man who cared about his two adoring kids and liked spending time with them. His two children are both younger than five years old. 
Estill expressed his sadness for the children that will grow up not knowing their dad, only being able to see him in pictures and videos, because of somebody else's reckless actions. Wrongful death can happen at any time, without any warning. The damage that it can do to the lives of their loved ones is immeasurable, and the grief can be hard to cope with. It takes a long time for people to put their lives back together after one of their loved ones died. 
Chief Wendell Shirley spoke on behalf of the Bellevue Police Department, saying how devastated everyone is about the tragic, untimely passing of Officer Jackson. The hearts of everyone on the force go out to Jackson's wife, his young children, his parents and other family members, his friends, and the coworkers that worked alongside him. The community grieves Jackson, and his death is a huge loss. After his funeral arrangements have been finalized, they will be announced. No doubt that many people whose lives he touched will attend, and that he will be given full police honors. 
The sad truth is that motorcycle accidents and wrongful death accidents happen all the time. Motorcycle riders do lack the outer protection that a vehicle such as a car does, so motorcycle accidents result in serious injuries at a higher rate than normal car accidents do. They also have higher death rates. The force of a car or truck versus a motorcyclist is astounding and incredibly dangerous. 
Motorcycle accident injuries can be painful, and cause lifelong pain or disability. Not only that, motorcycle accident injuries can rack up thousands in medical expenses, and can cause a person to not be able to work or lose earning capacity. Motorcycle accident injury victims may also have to pay somebody to care for their children and house while they recover. Many motorcycle accident survivors end up suffering from trauma and PTSD and have to get therapy and psychiatric services as well. 
If you or a loved one was injured in a motorcycle accident, or your loved one was killed in a wrongful death accident, Seattle Injury Law can help you file a claim. We have many years of experience in helping to grieve and suffering people get compensation for what happened. Although you are going through a seemingly impossible time, we can help you fight for justice. Our Seattle personal injury attorneys deeply care about our clients and want to help them get peace of mind. Nobody deserves to be injured or die from somebody else's negligent actions. Contact us today to find out how we can help you.